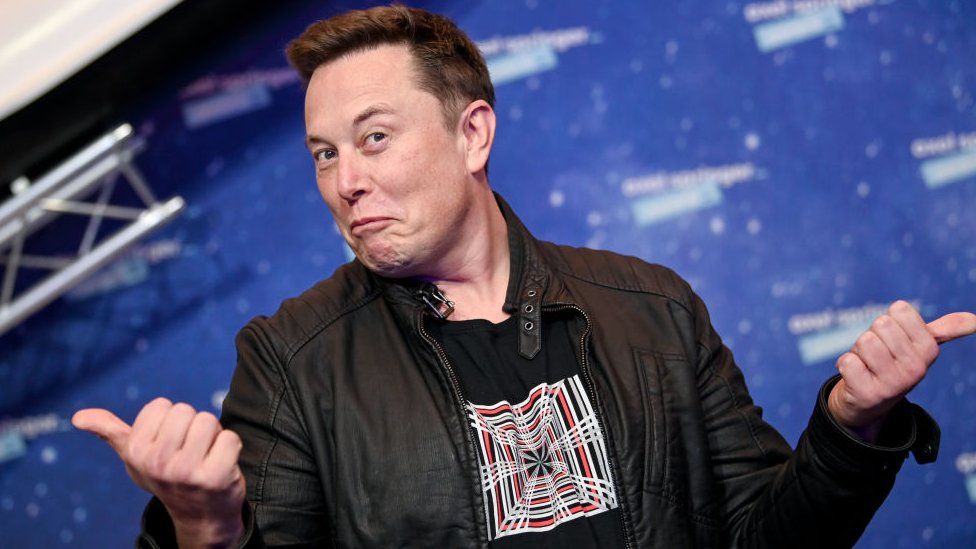 Tesla shares have fallen by about 4.6% after Twitter users voted in favour of boss Elon Musk selling 10% of his stake in the carmaker in order to pay tax.
Mr Musk polled his Twitter followers on whether he should sell the shares, and 58% of the 3.5 million accounts that voted said he should.
It could see him dispose of nearly $21bn (£16bn) of stock.
Mr Musk held the poll over the weekend in response to a "billionaires tax" proposed by US Democrats.
Mr Musk – who is one of the world's richest people – pledged that he would abide by the results of the poll, "whichever way it goes".
The Democrats had proposed plans to target billionaires by taxing their assets, such as shares.
Billionaires are often compensated in shares, which means their wealth rises or falls depending on the stock price. But they only pay tax on the gains once the shares are sold.
Mr Musk has a large number of stock options which are due to expire next year. In order to exercise them, Mr Musk would have to pay a large tax bill.
As of 30 June, Mr Musk's shareholding in Tesla came to about 170.5 million shares and selling 10% would amount to close to $21bn based on Friday's closing prices.
Much is made lately of unrealized gains being a means of tax avoidance, so I propose selling 10% of my Tesla stock.

Do you support this?

— Lorde Edge (@elonmusk) November 6, 2021
The chief executive, who currently owns a 23% stake in Tesla, has yet to comment publicly on the Twitter poll result.
Mr Musk said on Twitter he takes no salary or bonuses from any of his companies, meaning he has no earnings on which to pay income tax.
"Elon Musk doesn't like to do things in a conventional way and so holding a poll on Twitter about whether he should sell 10% of his stake in Tesla might seem crazy, but one could say it is normal behaviour for him," said Russ Mould, director at AJ Bell Investment.
Mr Mould said the situation was an "open invitation for sellers to "place a bet that the shares will fall" which would generate a profit for them if the stock declined in price.


Analysis
By Lucy Hooker, BBC business reporter
With this latest Twitter stunt Mr Musk appears to be taking aim at a Democrat plan to ratchet up taxes on America's wealthiest.
The plan, floated earlier this year would change the way Americans are taxed, but it only applied to around 700 individuals, the richest of America's richest, including Mr Musk.
Typically the very wealthy keep their money in the form of assets such as shares in their own companies, and only pay tax if they sell those shares. They can borrow money using those assets as collateral, avoiding the levels of tax most ordinary people pay.
The plan proposed levying tax based on how much those assets had increased in value, even if they hadn't been sold, known as "unrealised gains".
But it has been set aside for now after some Democratic senators dissented.